VIDEO: Joan Rivers' Final Appearance on The Tonight Show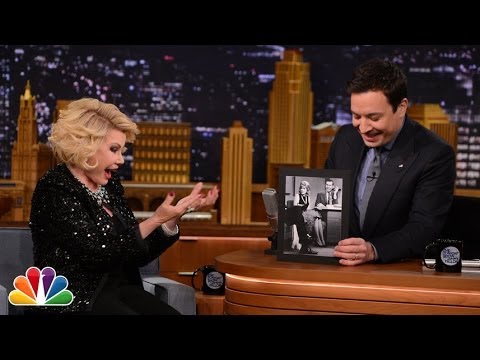 Listen to Stand Up Comedy on iHeartRadio
Joan Rivers' 26 year ban as a guest on The Tonight Show came to an end in March when she was Jimmy Fallon's guest on the NBC late night talk show.
RELATED: Joan Rivers Dies at Age 81
The "ban" was the result of a fallout between Rivers and host Johnny Carson. In the 1980s, Carson named Rivers his permanent guest host. In 1986, Rivers left to star in her own late night TV talk show on the new Fox network in 1986. There are varying accounts about whether Rivers informed Carson or not, but they two never spoke again.
Jay Leno continued the "Joan River's Ban" during his time as host of The Tonight Show.
"And then Leno – that moron – for some reason, kept the ban going for 26 years," she told Access Hollywood Live.
Joan Rivers made the most of her return appearance, starting off with a very risqué joke and explaining why she was sitting on an inflatable donut. Fallon showed Rivers a photo of her and Carson in the same studio - Studio 6B - when she was on the show in 1965. In a nod to Carson's style of humor, the audience helped Rivers with a "How ____ was it?" joke.
Rivers has spoken highly of Fallon's as the new host of The Tonight Show. In her interview with Access Hollywood Live, she said "The only one I ever said could match him [Carson], which is funny, is Jimmy Fallon and I said that the first time I went in and saw Fallon."
PHOTOS: Remembering Joan Rivers
Take a look at the life of Joan Rivers in the gallery below.
Mobile User? Click HERE to see the gallery!
More from 600 KCOL - FOX NEWS Radio